find recyclable household packaging points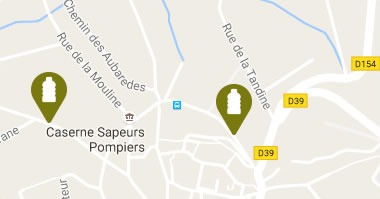 The recyclable domestic packaging must be thoron loose in the yellow bin (not in plastic bags). They are collected once a week in your towns and villages and are brought to the sorting centre of Pézenas.
QWICH ARE THE WASTE TO BE PUT DOWN IN YOUR YELLOW BIN?
Plastic bottles, plastic tins and flasks (hygiene products)
Tins,
Sprays,
Drink cans,
Food bricks,
Cardboard packaging,
Paper, newspapers, magazines,
plastic cans of fuel for mobile heaters,
TO BE BANNED!
Green and garden rubbish,
Flowerpots,
Polystyrene packaging,
Overpackaging and plastic films,

Soiled and not emptied packaging,
Dairy products pots,
Glass.
THE COURSE OF THE RECYCLABLE DOMESTIC PACKAGING
| | |
| --- | --- |
| THE COURSE OF ONE PLASTIC PACKAGINGS | THE COURSE OF A CARDBOARD PACKAGING |
|  THE COURSE OF A METAL PACKAGING |  THE COURSE OF A ALUMINIUM PACKAGING |
les documents attachés